KeaBiotech
Buy DuroKea Family Pack ( Durokea S 230ml, Durokea H 100ml, Durokea H Aqua 100ml, Durokea M) and Get 65% off* *on total MRP
Regular price
Rs. 1,322.00
Sale price
Rs. 528.00
Unit price
per
Sale
Sold out
Buy DuroKea Family Pack ( Durokea S 230ml, Durokea H 100ml,  Durokea H Aqua 100ml,  Durokea M) and Get 65% off on total MRP.
Share
View full details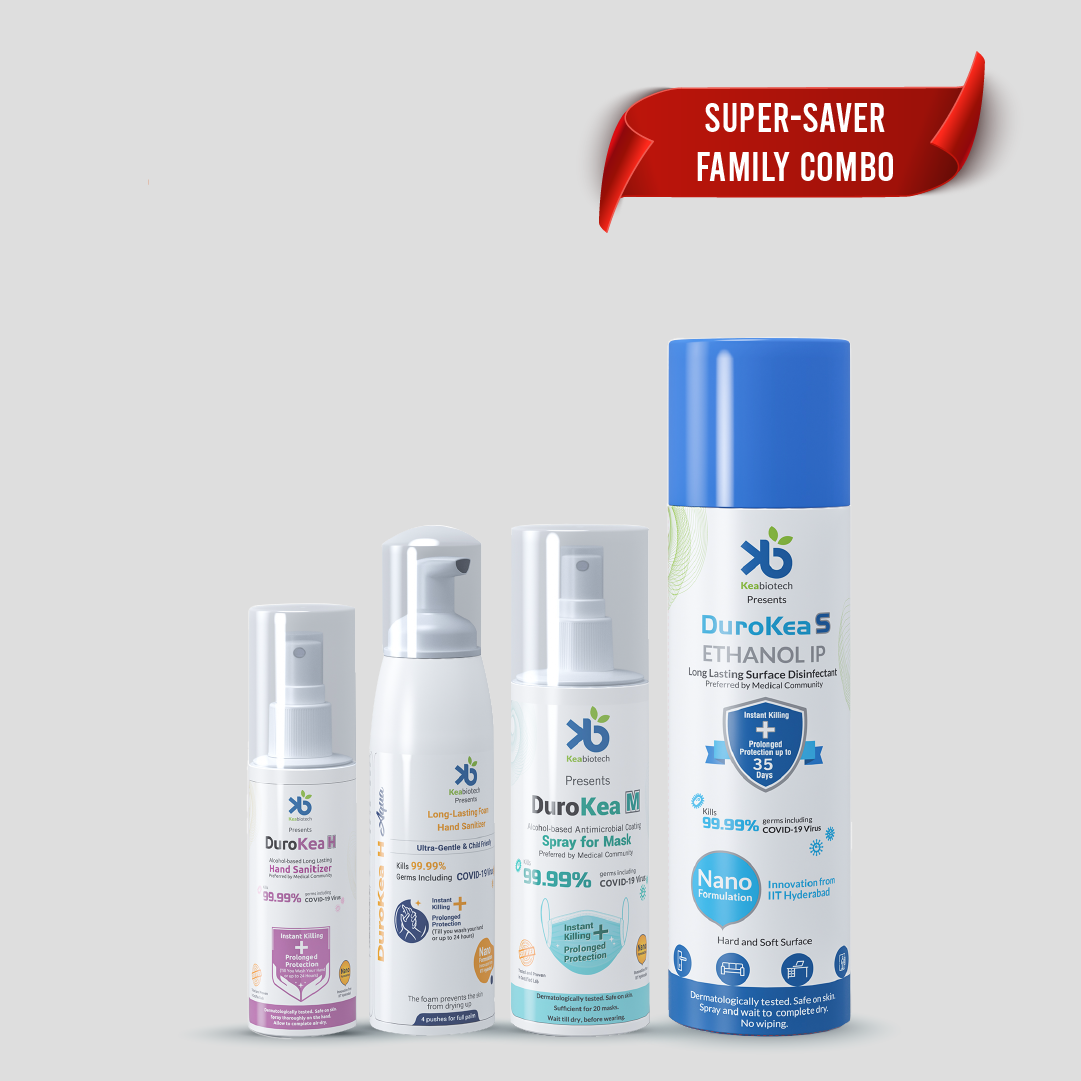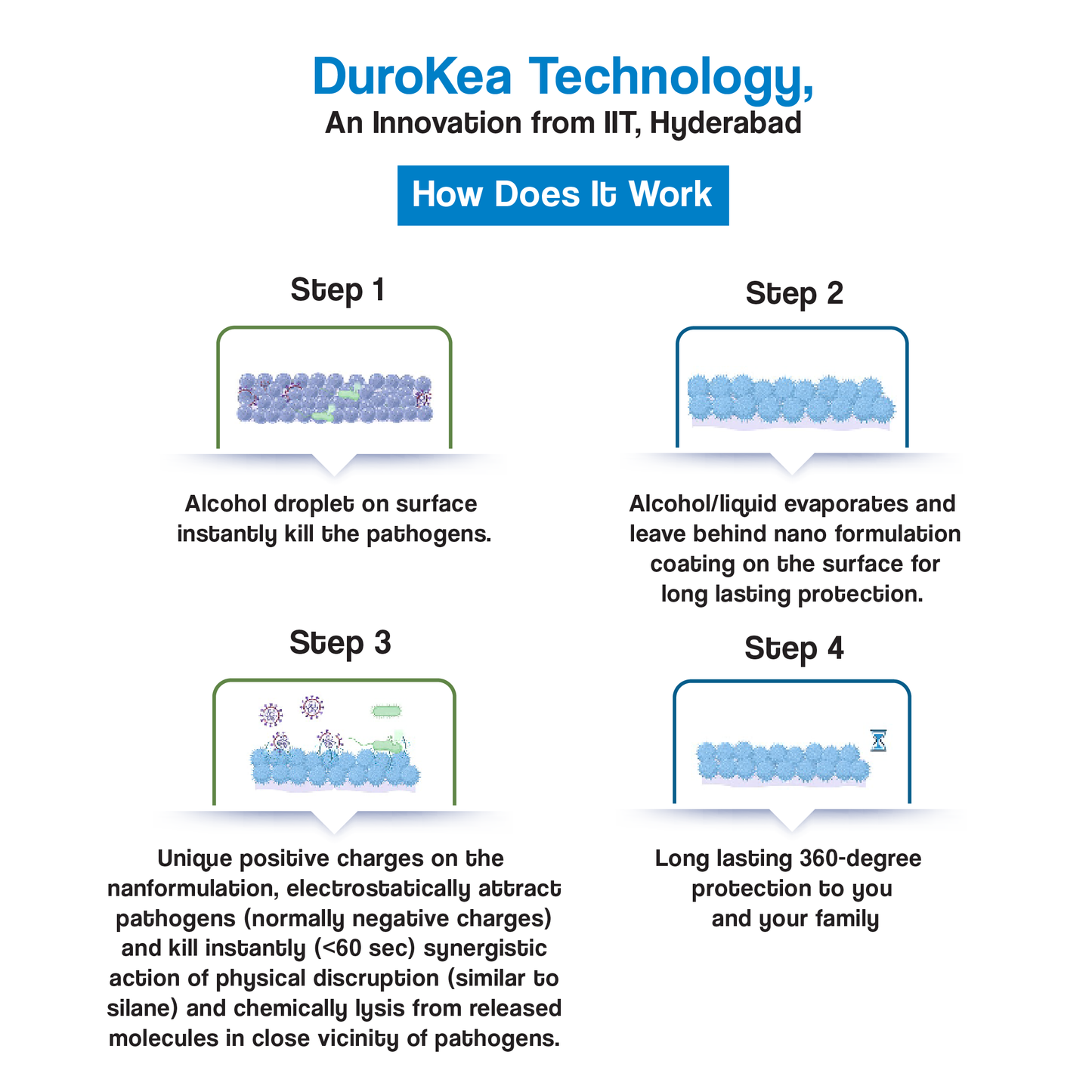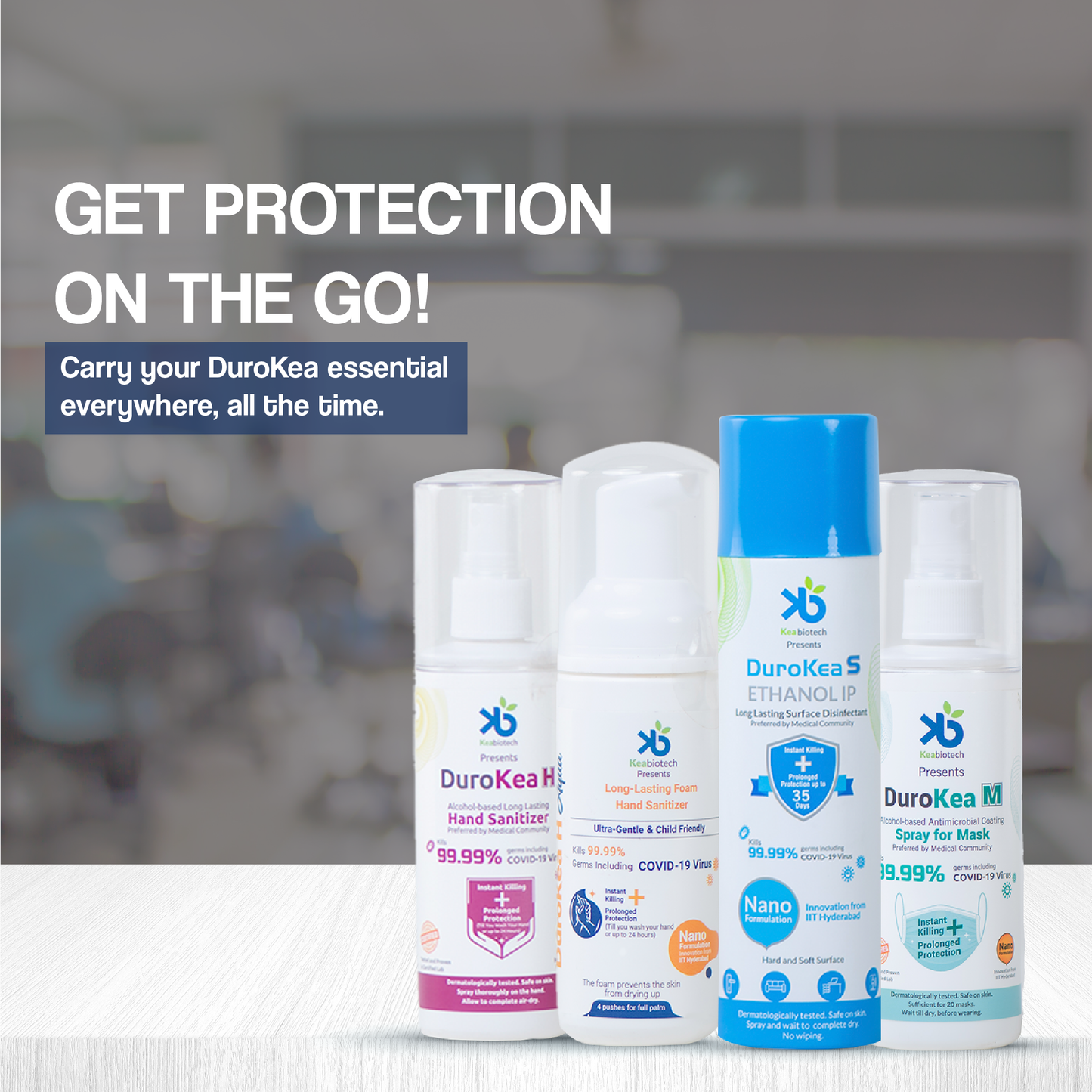 About Product
Durokea M is a novel nano formulation-based spray for masks. It kills 99.99% of germs instantly, including the COVID-19 virus and makes the mask's nanoscale coating for further protection until it is washed or discarded. Its alcohol droplets instantly kill all kinds of pathogens, including viruses, and leave behind the nano-coating, which provides long-lasting protection.
Durokea S is a patented nano-formulation-based long-lasting alcohol surface disinfectant. It is the only long-lasting (up to 35 Days) Surface Disinfectant product available in the current market, which is alcohol-based. Once you apply it, its alcohol component instantly (in less than 30 seconds) kills germs.
Durokea H is a novel patented nanotechnology formula-based hand sanitizer which is 70% alcohol-based, long-lasting and protects you and your family from all kinds of germs. With an easy application, you can protect yourself & your family from a wide range of bacteria and viruses anytime, anywhere without soap or water. It is a non-sticky and quick-drying formulation. It is the only Long-Lasting product available in the current market which is Alcohol-based. Once you apply it, its alcohol component instantly (in less than 60 seconds) kills germs on your hand.
Durokea H Aqua is a foam-based alcohol-free long-lasting hand sanitizer. It is a patented novel nano-formulation-based sanitizing foam. The nano-coating kills 99.99% of all pathogens instantly and provides long-lasting protection for up to 24 hours or till you wash your hands. It is entirely safe and gentle for baby skin.
Application
For external use only. Avoid contact with eyes. If accidental contact occurs, rinse thoroughly with water. Children should use it under adult supervision. Do not swallow. In case of accidental ingestion/skin irritation, contact the doctor. Do not use it on sensitive skin areas. Discontinue use if allergy occurs. Please read instructions on pack carefully.
Be Wise. Just Sanitize. Use DuroKea.
Skin-Safe

Persistent Care 

Tried and Tested

Instant Protection